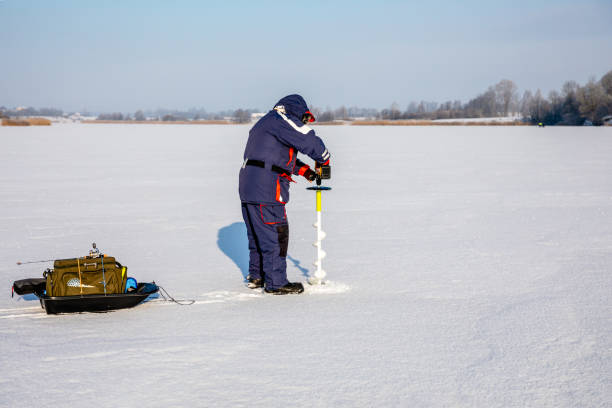 Ice fishing has much to offer! Ice fisherman and women are often called hard water anglers, for obvious reasons. Many people get hung up on the idea that ice fishing is all about sitting on ice yet this overlooks many of the great advantages of the sport. For starters you will have fewer fisherman to share space with and far fewer insects to contend with!
Ice fishing has its own set of gear requirements and there are safety precautions that are unique to this style of fishing, this article aims to provide you with the information you need for a successful day on top of the lake!
Basic ice fishing supplies consist of an ice shanty or shelter, an electric ice fishing auger for cutting a hole in the ice and a small, light weight fishing rod or a tip-up which I discuss below.
The ice shanty or shelter can be portable or permanent and can protect anywhere from one to four occupants from the wind and cold. Small heaters can be used in many of the shelters to provide added comfort.
An auger can be manual or powered and is what most fisherman will use to cut a hole into the ice, yet others may use a saw or chisel. A circular hole or rectangle is the typical shape and the recommended size of the hole is 8 inches or approximately 20 centimeters. This allows enough room for fishing but is not big enough to become a safety hazard should a foot slip into the hole.
An alternative to the rod is to use what is called a tip-up. This is a device that can be spread over the hole in the ice and supports a line dropped into the water. When a fish bites, a flag on the tip-up is triggered alerting the fisherman that they got a hit.
Ice fishing has many wonderful aspects and many anglers enjoy the extension of the fishing season. Still precautions must be taken and this includes the thickness of the ice. If you plan on ice fishing alone the ice thickness should be 10 centimeters or greater, if you are in a group it should be 18 centimeters or greater and if you will be taking a vehicle on the ice, then do not venture out on ice that is less than 28 centimeters in thickness.